What is Neuromuscular Retraining
Neuromuscular retraining refers to the relationship between your nerves and muscle tissue and how to enhance that relationship. It is a group of exercises that progressively challenges you and teaches your body better movement habits. Our programs are based on movements from Tai chi that have been investigated scientifically for there benefit.We focus on improving postural control and ankle instability for conditions such as lateral ankle sprains and patellofemoral pain syndrome. Neuromuscular retraining is a developing field and something for the active and sports minded to consider adding to their program.
The aim is to:
Optimise performance
Prevent sports-related injury
Provide rehabilitation from your injury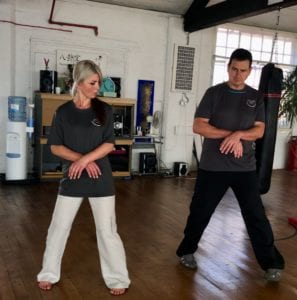 Don't have time for exercise
When we prescribe a set of exercises to help with your recovery from a foot or leg condition we know it can be a challenge for you to complete these exercises in the busy lives we live. To help we also take the time to teach you how to build an exercise habit.
Learning an Exercise Habit
It is no good just giving you a group of exercises for you to do before your next visit and expecting you to do them because you should or worse, making you feel bad because you haven't done them. At Power Podiatry we take the extra little bit of time how to fit those exercises into your busy life.
Tiny Habits
We use a simple yet powerful tool developed by Stanford Professor BJ Fogg to help you develop your very own exercise habit. You are then free to use this tool for any other habit that you may want to introduce to your life like flossing your teeth or being more productive. The tool is called "Tiny Habits" and we have a little cheatsheet for small exercise habits.
Tai Chi and Neuromuscular Retraining
We have developed an individual neuromuscular retraining program based on Tai chi because the research supports it. Recent research that compared a neuromuscular retraining program with a Tai chi program found both groups had similar outcomes but the participants had more interest in continuing the Tai chi and had greater satisfaction.
Colin Power our Hervey Bay Podiatrist has been an internationally recognised Tai chi instructor for 20yrs and has developed programs for major community organisations such as Anglicare for their Parkinson's program and Falls prevention program.
Many A-league sports teams are looking to Tai chi based programs for their neuromuscular retraining programs. Are you all about:
Performance
Injury prevention
Recovery
If you are involved in a sporting organisation or movement group and would like to discuss having a presentation.
If you feel that neuromuscular retraining would benefit you.

Call 07 4112 3211